There are plenty of reasons why Texas is a lucrative field for real estate investors. In less than a decade, the state population grew by 3.5 million, even more than leaders of interstate migration like Florida or California. 
This wave of immigration is propelled by the low unemployment rate, an abundance of high paying jobs, and affordable home prices. The state adds new jobs at the 4% rate, which is twice the national average. The new Texans need a place to live and require a half-million new homes. As a result, the construction industry is booming, adding thousands of new residents to the inventory each month. 
Despite the surge in the home prices in recent years, they are still below the prices in the major economic hubs. On average, the median house price in Texas is below $300,000, while it is approaching $400,000 in New York state, and goes over $500,000 in California. 
Why investing in Texan property is a good idea?
Five out of eleven fastest-growing U.S. cities are Texan cities. Texas provides many reasons for American that are looking to relocate. The Lone Star State boasts lower than average mortgage rates, plenty of good-paying jobs, low cost of living, and no income tax. The prices for consumer goods, gas, entertainment, and even cable are significantly lower than in most American metropolitan areas. As a result, Texas attracts New Yorkers and Californians that cannot afford a house in their state; the homeownership rate has been on the rise since 2016.  In spite of the housing affordability, Texas is picking up the national trend, and many new residents prefer to rent. Rent prices are rising steadily, but still relatively low and still behind the national average. 
The occupancy rate of the rental properties is high in all main Texan metropolitan areas. In light of the renting popularity, Texan real estate moguls are shifting their priorities and investing in build-to-rent properties instead of single-family homes. Due to strict housing codes and high cost of construction and land, those properties yield a higher return on investment than entry-level homes for sale. 
Where to invest in Texas? 
With the surging popularity of renting, one of the best investment decisions is to invest in duplexes. In Texas, they are relatively cheap, while providing a good return on the investment. With the stable demand from renters, you can expect low vacancy rates and a quick return on the investment.  
Nevertheless, economic growth in Texas is uneven. In certain counties, it is tied up to the oil production boom and tends to fluctuate together with the oil prices. In the big urban centers, the house prices depend on the well-being of the manufacturing sector, which relies on the demand from the domestic market. The economic well-being and price dynamic of the Texan real estate markets aren't the same, so the investment strategies should be different for each. 

Austin
Average home price: $353,000
Average rent price: $1332
Austin is the capital of Texas and the city with the highest average home prices among the major cities. It boasts the fastest-growing population in the entire state, with a 9% increase over three last years. Austin is a thriving center that has both a booming economy, a vibrant entertainment industry, and a rich cultural life. In the recent decade, Austin rose to prominence as the powerful center for new musical talent as well as an entertainment destination with a thriving nightlife scene. Every March, Austin hosts the world's largest music industry festival, the South By Southwest Music Convention, which brings together performers, bands, entertainers, musical producers, and fans from around the world. 
Austin is one of the most desired cities for millennials with a pedestrian-friendly city center, niche musical venues, and a strong tech sector. Nevertheless, it is one of the priciest Texan cities in terms of property prices, rent, and cost of living. The price for the rental varies significantly, depending on the neighborhood, but on average, a one-bedroom rental will cost you $1,332 a month. If you want to buy an expensive rental property and cater to affluent customers, business executives, and tech gurus, consider properties in South River, Downtown, and Boulding. If you are on the tight-budget or want to target customers with lower earning potential, inspect neighborhoods such as Franklin Park, Georgian Acres, and University Hills. Duplexes are a common property type in Austin, the most of them can be found in Bouldin Creek. 
Fort Worth
Average home price: $255,000
Average rent price: $1032 
Fort Worth is one of the twin cities of Texas; together with Dallas, they constitute one of the biggest U.S. urban centers. Trinity River is the only boundary between the two cities. There are plenty of factors that make Fort attractive for owning rental property. The population in Fort Worth has added almost 50% since the year 2000, adding 300,000 new economically active residents. Many real estate agents consider Fort Worth an affordable Dallas. The average home price is around $255,000, which is significantly less than the U.S. average and quite a comfortable price for young families. 
Another upside for potential Fort Worth rental property owners: the area has several universities and colleges. Rentals for college students is a profitable niche for rental property owners, they are always in demand, and despite low credit scores of students, you can expect stable cash flow from their parents. Due to this fact, owners of the rental properties around university campuses can count on the insatiable demand for their apartments and can charge higher prices.  
Dallas
Average home price: $282,000
Average rent price: $1064 
Dallas is the stronghold of manufacturing, financial, and consulting industries that produce a significant portion of the state GDP. There are more than 10,000 domestic and international corporations based in the city center of Dallas. This urban center has the highest concentration of corporate headquarters in the U.S. Consequently, business executives and young professionals hiked the prices for rentals located in the city center. Another factor that influences the price of the rentals is the availability of public transportation, like DART- an extensive light rail system that serves Dallas and surrounding satellite cities and suburbs. The average rental price for a duplex in Dallas is usually around $1,239.
The rent price can vary significantly across the city; the most expensive neighborhoods are centrally located at University Park, Oak Lawn, and Center District. Neighborhoods on the periphery, like Parkdale, Preston Hollow, and Southeast Dallas, have much more affordable rental prices. The most extensive duplex inventory is in the Lower Greenville area.
Arlington
Average home price: $240,000
Average rent price: $1005
Arlington is part of the Dallas-Fort Worth urban metro area. It is a quiet suburban town that benefited from the economic growth of this business hub. In recent experience a significant population surge and booming in construction. Arlington's population increased significantly due to the influx of commuters from the nearby twin cities, who search for a tranquil setting to raise a family. From 2010, Arlington added 30,000 new residents, which results in a growth rate of 18% over eight years. 
Similarly, Fort Worth, Arlington property owners can benefit from the ever-increasing college population. There are a lot of medium-sized colleges and universities. One of the most significant of them is the University of Texas at Arlington, with state of the art research facilities and one of the best planetariums in the state. Other notable amenities include a picturesque Arlington lake, and AT&T Stadium, the home base of the state's darling Dallas Cowboys.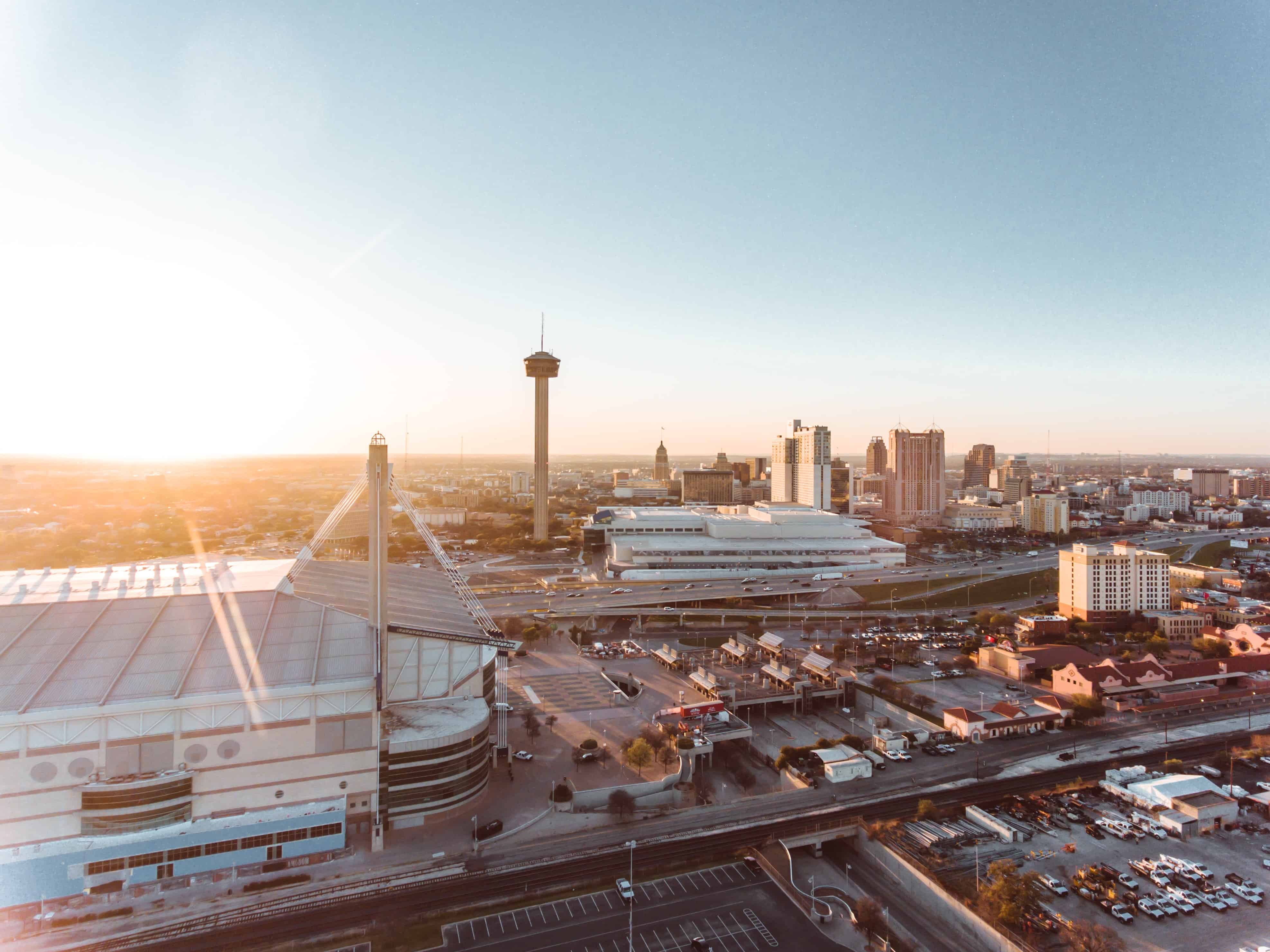 San Antonio
Average home price: $246,000
Average rent price: $1012 
San Antonio is a center of south-central Texas, the main economic and political hub of this part of the state. Despite the status of the 7th most populous state in the nation, San Antonio preserved its heritage and authentic Texan vibe. It has plenty of historical sites and colonial architecture. 
San Antonio has a diverse job market with strong banking and public sectors, as well as industrial capabilities and manufacturing. It is one of the fastest-growing metro areas with low housing prices and very affordable rent. The most affordable duplexes can be found in Denver Heights and Thunderbird Hills. If you have some money in stock and want to cater to the upscale public look for your new developments in the neighborhoods like Government Alliance, and Healy Murphy. Tobin Hill is an area with the biggest inventory of duplexes. 
Mariia serves as editor-in-chief and writer for the Rentberry and Landlord Tips blogs. She covers topics such as landlord-tenant laws, tips and advice for renters, investment opportunities in various cities, and more. She holds a master's degree in strategic management, and you can find her articles in such publications as Yahoo! Finance, Forbes, Benzinga, and RealEstateAgent.