If you want to jumpstart your career the first thing that comes to mind is to cash into the fixer-upper. House fixer-uppers are becoming increasingly popular. The fashion for flipping houses came with economic changes and immense popularity of TV home shows on the same topic. Not only professional investors and developers but also regular folks entered the game and started buying fixer-uppers for personal use and profit. This business promises a big return on the investment; a cheap depreciated property can bring a significant return on an investment after a successful renovation.
Nevertheless, the industry is not as glamorous as it portrayed in TV shows. In real life, shucks are not transformed into mansions. To effectively flip the house, you need to articulate your end goal, purchase the right house, and decide how exactly you want to remodel the place.
Why buying a fixer-upper?
People buy fixer-uppers for various reasons. They can be exclusively financial, like in the case of house flipper, with little regard for construction and design. On the other hand, some people buy fixer-uppers to remodel the house for themselves and according to their aesthetic values. The reasoning behind buying the fixer-upper is a spectrum. You need to determine what your plan for the fixer-upper is clearly. It will help you to make productive decisions that will follow!
Home for Personal Use
It takes a true dreamer and romantic to see a cozy home nest in the neglected dusty hut. A cheap fixer-upper provides plenty of space for creativity. You can restore the original architecture of the house and return it to its former glory. Alternatively, you can completely remodel the house to fulfill your artistic vision.
Rental Property for Passive Income
A sound way to make money with a fixer-upper is long-term renting. This method is slower than house flipping but steady and stable. To create an appealing rental property, you need to buy a neglected property, invest your time and effort into the renovation, possibly with do-it-yourself remodeling, and rent the property out. Here you should invest in the renovations that are popular with the renters to charge the higher rent. The most comfortable arrangement for renting is a one-year lease. This way you would have a secure stream of income for a whole year and have operational flexibility for further remodels or if you decide to flip this house.
Flip a House
Flipping is the hot new word, and many wonder how to flip a house. House flipping is a popular practice that includes purchasing a rundown residential property at a low price, conduct cosmetic repair or light renovation, and then sell it for a profit with a year. The golden age of house flipping occurred between 2008 and 2012 when thousands of households had a hard time paying their mortgage. Consequently, the foreclosure rate picked and housing inventory inflated. Thousands of amateur property developers seized the moment and streamlined the process of buying, fixing, and flipping.
Nowadays, house flipping is still are a profitable enterprise. However, profit margins are much slimmer than right after the subprime mortgage crisis. At the same time, the market stabilized, and now there is fewer available foreclosed property, while thousands of speculators joined the house flipping game.
Hybrid Model
This strategy gives you the best of the two worlds. You acquire a house, fix it, reside there for a couple of years and then sell it for profit. You get to build your dream house and fulfill all your wildest dreams. At the same time, you can wait for a favorable market situation and sell when ROI is the highest.
renovation
Choosing Remodelling Strategy
Buying the right kind of property for fixing depends on your motivation and strategy for this fixer upper. If you are hoping to rent out the property eventually, you need to look for a property with rentable properties. It should be in a safe neighborhood with good schools, have access to major transportation hubs or the public transit system. Hunt for the features that your target demographics of renters find attractive.
If your main target audience is the elderly or families, your remodeling should, first of all, ensure safety and сomfort. However, since you are not planning to sell the property, you don't have to show off or make expensive showroom-worthy remodels. Your rental should look decent and livable.
Levels of Remodelling
Fixer-uppers come in different colors and shapes. They can be in different conditions that can require different types of fixing. Renovations may range from the most profound and expensive to relatively cheap and cosmetic.
Cosmetic Changes
This type of remodeling is good for relatively decent properties. In those properties exterior siding, walls, and underlying structure and service remain intact. Those fixer-uppers need to be refreshed. Wall should be painted, countertops replaced and floors refurbished. Bathrooms and toilets have to relined or refreshed.
Strip to Stud
In this scenario, the house is structurally sound but requires the replacement of interior walls and siding. The underlying infrastructure, such as plumbing and electrical services can remain untouched but still should be thoroughly checked and upgraded.
Complete Remodel
In certain properties, the only viable parts are the foundation and house frame. In those houses, more profound changes have to be performed. That might include exterior siding, interior walls, and all the filling. All supporting services, such as cooling, heating, electrical, and plumbing should be removed and replaced.
Tear Down
Sometimes the property was so neglected that the only asset left is the plot of land beneath it. In this case, the only viable scenario is to tear down and rebuild it from scratch. You are lucky if the foundation can be reused.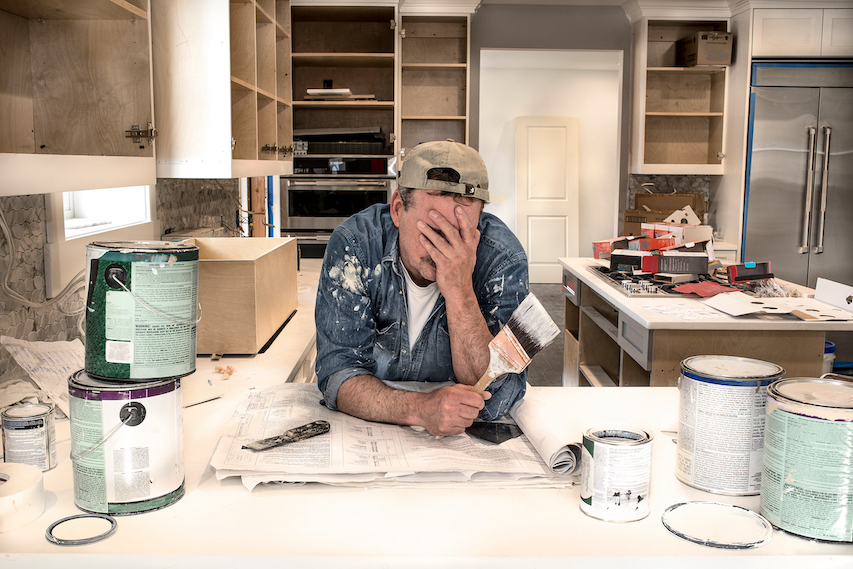 Assess the Cost
You should realistically assess the overall costs of the fixer-upper. Consult with the local realtors and property managers. They can provide valuable insights into the neighborhood and the local properties. In most cases, there are hidden costs in every fixer-upper. Partner with a real estate agent who will be interested in the future sell, and will dig out the information for you. Don't save on the property inspection. Hire the most experienced crew which will scan the property in and out and determine structural problems and minor flaws.
Hire Construction Team
This the second most important question in your fixer-upper project. You can choose to side with the full-cycle turn-key constructors. They will perform all the major assessment and construction and free you from endless requests and on-site visits. Additionally, you will have a guarantee that the remodeling will be done promptly within the set deadlines. Nevertheless, those contractors charge high commissions that can reach 25%. If you are planning to flip the house that will significantly reduce your profit margins.
The other option is do-it-yourself remodels with the occasional engagement of private contractors. When you are directly supervising the renovation, you can keep the costs in check and ensure significant profit margins. Still, this type of remodeling may take significantly longer. This might complicate the situation in the flipping game, especially if you are taking a mortgage and not paying cash upfront. You have to pay a mortgage longer, and each month you are losing the return on the investment. It is in your best interest to finish this remodeling quickly.
Mariia serves as editor-in-chief and writer for the Rentberry and Landlord Tips blogs. She covers topics such as landlord-tenant laws, tips and advice for renters, investment opportunities in various cities, and more. She holds a master's degree in strategic management, and you can find her articles in such publications as Yahoo! Finance, Forbes, Benzinga, and RealEstateAgent.