As a landlord, you know your tenants' pets have the potential to cause property damage — or even bodily harm. At the same time, you want to attract the best tenants possible, even if they have furry friends in their wake.
For a long time, pet-friendly landlords have struck a balance by restricting certain breeds whose perceived risks are higher, such as pit bulls and Doberman pinschers — or by implementing weight restrictions. But breed advocate pushback is having a real-time effect: New York governor Kathy Hochul recently signed legislation that makes it illegal for insurance companies to cancel or deny coverage based on dog breed. 
This begs the question — should you join the riskier ranks of pet-friendly landlords? And if so, what steps do you need to take to protect your property?
Should you become pet-friendly?
Making the decision to allow pets — and large dogs especially — can be tricky for landlords. On the one hand, you do risk property damage, not to mention noise disruptions, lingering odors, and, of course, the potential for injury.
But there are plenty of good reasons to consider taking the leap: you'll likely draw a larger pool of applicants, since some renters need housing where their pets are allowed, and you may be able to charge higher rent costs or add pet rent to the monthly total. 
Because pet-friendly rentals can be more difficult to find, you may also have a better chance at lease renewals if your tenants are happy and comfortable. 
Still, it's important to take some precautionary measures if you do plan on allowing pets.
If you want to allow pets, take these steps first 
A little bit of preparation can go a long way when it comes to successfully running a pet-friendly rental.
1. Check out your own insurance and local ordinances.
While the needle may be moving toward a more egalitarian approach to dog breeds, not every city and state has implemented protections like those in New York.
Depending on your location, your homeowners' insurance company may still restrict certain dog breeds, and plenty of U.S. cities still have similar community-wide bans. 
Obviously, if a certain dog breed is illegal in your location, or your homeowners' insurance company (or your tenant's renters insurance company) won't cover their damages, you don't want to have them living in your rental. 
That said, such ordinances are actively being protested and repealed, so it's worth keeping an eye on the headlines — the rules in your area may be set to change.
2. Consider upgrading your flooring.
Even the best-trained pets do occasionally have accidents — not to mention claws. And certain types of flooring, such as laminate and vinyl, are better able to stand up to the rigors of pet life than, say, shag carpet.
Although upgrading your flooring is a major project, it could be worthwhile in the long run if you plan on accepting pets. Soft flooring surfaces are more likely to retain odors or get stained, which could mean expensive cleaning fees for tenants.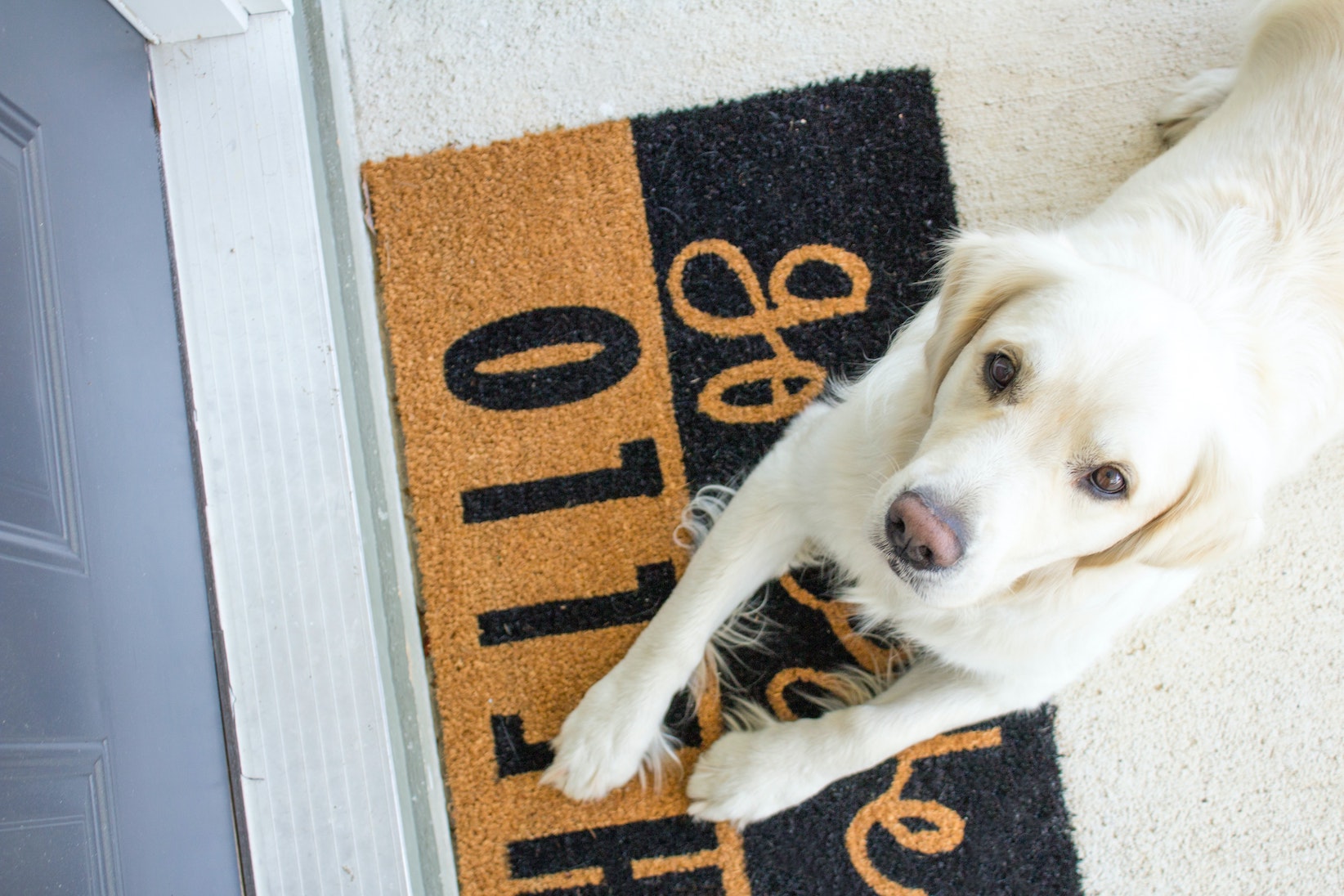 3. Fence and landscape your yard.
Most dog owners want their pets to do their business outside — and as the landlord, you likely do, too. But if you've invested in lush foliage and flowers as part of your landscaping, you might want to give your design a second look: you don't want Fido to "water" your sunflowers or tomatoes. 
Setting up a designated "potty" area is a good way to ensure that pets have a place to do what they need to do without destroying the more fragile parts of your outdoor living space. You might consider covering it in gravel or mulch, which is both durable and easy when it's time for cleanup. Fencing can help separate out each area and keep pets from escaping or wandering into a busy street.
4. Update your rental application and lease agreement.
When done well, allowing pets isn't as simple as checking the "dogs allowed" box when creating your rental listing. You'll want to update your various paperwork to ensure your policies are clear — and that you get all the information you need from prospective tenants.
For starters, be sure to specify from the start which types of pets you allow (including any breed or weight restrictions), how many pets you allow, and any additional pet rent or pet deposits that will be required. You may also want to require renters to purchase and provide documentation of a renters insurance policy that will cover accidental injuries due to dog bites. 
On the rental application itself, you'll also want to gather information about the animals who might soon be living on your property. Questions to ask include:
What is the breed, size, and age of each pet?

How long have you owned them?

Are all pets up-to-date on vaccinations and licensing?

Are all pets spayed or neutered?

Are all pets house trained?

Have any pets ever acted aggressively toward you or someone else?

Are all pets on an active flea prevention regimen?

Who looks after your pets when you're traveling?
Finally, your lease, too, will need to be updated with a pet addendum that explicitly states the rights, responsibilities, and rules related to pets on the rental property, including pet rents and deposits and whether or not they're refundable.
5. Meet the animal(s) in person as part of your screening process.
To fully put your mind at ease, you might require meeting the tenants' pets in person as part of the screening process. Along with giving you (albeit brief) insight into the animals' behavior, you'll also get valuable information about the tenants. Are they carrying waste bags to pick up after their pets? Are the pets leashed and responding to commands? Even a 15-minute meeting can give you a lot of information about both the tenant and their pup.
While going pet-friendly does come with some risks, it can open your rental unit to a wider applicant pool, larger monthly income amount, and a whole lot of love in the shape of a four-legged friend. Just be sure to do the work ahead of time to protect yourself and your property.